Press Release
Lifeway launches new "Authorized Dealer" program for retailers to sell Bible studies, Lifeway resources
May 22nd
Lifeway launches new "Authorized Dealer" program for retailers to sell Bible studies, Lifeway resources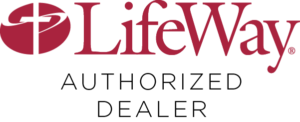 Beginning June 1, Christian retailers will have the opportunity to sell Bible studies from Lifeway Christian Resources under new terms, through a new program called Lifeway Authorized Dealer Program.
As part of this new program, retailers can purchase Lifeway products for the first time at a discount off the manufacturer suggested retail price (MSRP), making it easier and more profitable for these stores to stock Lifeway resources.
These resources include Bible studies from top Christian authors and speakers such as Beth Moore, Priscilla Shirer, Tony Evans, Ravi Zacharias, Matt Chandler, David Platt, Lisa Harper, Lysa TerKeurst, Jen Wilkin, Kelly Minter and many others.
"We are excited for this new opportunity to partner with Christian bookstores," said Michael Kelley, director of Groups and Adults Publishing at Lifeway. "We know independent Christian bookstores are an essential part of their communities, and we are glad to help serve alongside them as they seek to provide resources to help people grow spiritually."
The requirements for a Christian retailer to become a Lifeway Authorized Dealer are simple: all dealers must abide by the Manufacturer's Advertised Price Agreement and designate a section of their store to Lifeway products. In exchange, retailers will receive the discount off MSRP, free freight on orders over a certain amount and additional marketing support.
Bookstores desiring to be a part of this new program should contact the Lifeway Trade Sales Team at 800-251-3225 or BHTradeSales@lifeway.com.
###
B&H Publishing Group, an imprint of Lifeway Christian Resources, is a team of mission minded people with a passion for taking God's Word to the world. Because we believe Every Word Matters® we seek to provide intentional, Bible-centered content that positively impacts the hearts and minds of people, inspiring them to build a lifelong relationship with Jesus Christ. Among our print and digital releases for the trade, church and academic markets, titles include "The New York Times" No. 1 bestsellers "The Love Dare" and "The Vow," No. 1 CBA bestseller "I Am a Church Member," as well as the newly-revised Christian Standard Bible (CSB) version.
In operation since 1891, Lifeway Christian Resources is one of the world's largest providers of Christian resources, including Bibles, books, Bible studies, Christian music and movies, gifts and church supplies, as well as camps and events for all ages.