Press Release
"The Storm-Tossed Family" by Russell Moore wins a 2019 Christian Book Award® for Faith & Culture
May 3rd
"The Storm-Tossed Family" by Russell Moore wins a 2019 Christian Book Award® for Faith & Culture
B&H Publishing Group is proud to announce that "The Storm-Tossed Family" by Russell Moore was awarded the Christian Book Award® in the Faith & Culture category by the Evangelical Christian Publishers Association (ECPA).
ECPA announced the winners of the 2019 Christian Book Awards® in 12 categories at the ECPA Awards Celebration held April 30 at the Rosemont Hilton in Chicago, during the ECPA Leadership Summit. The Christian Book Award® program has "recognized the highest quality in Christian books since 1978," according to the ECPA.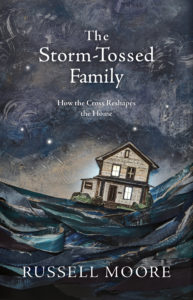 Published in September 2018, "The Storm-Tossed Family" addresses questions such as, "Why do our families have so much power over us?" and explores how family makes us who we are and how understanding this can liberate us to live without fear.
A longtime pastor, a former professor and provost of the Southern Baptist Theological Seminary and the current president of the Southern Baptist Convention's Ethics and Religious Liberty Commission, Moore brings theological insight and pastoral approach to this most sensitive of topics.
"Dr. Moore is an incomparable writer, thinker and leader. Working alongside him on books that are culture-shaping and life-changing is an honor," said Jennifer Lyell, V.P. of Book Publishing and Merchandising for B&H. "Watching his efforts be so consistently recognized by readers and the publishing industry is exactly as it should be. We are very proud of 'The Storm-Tossed Family' and the recognition it received by ECPA."
For more information about the ECPA Christian Book Award® program, visit ChristianBookAwards.com. For more information about the book, visit StormTossedFamily.com.
###
Russell Moore is president of the Ethics & Religious Liberty Commission of the Southern Baptist Convention, the moral and public policy agency of the nation's largest Protestant denomination. He is a frequent cultural commentator, an ethicist and theologian by background and an ordained Southern Baptist minister. Moore is the author of several books, including "Onward: Engaging the Culture without Losing the Gospel." A native Mississippian, he and his wife Maria are the parents of five sons. For more information, visit russellmoore.com.