Press Release
Award-winning Christian music trio Point of Grace to release giftable book "How You Live" on life lessons, wisdom to pass down
Aug 24th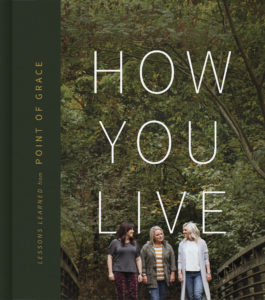 Having inspired audiences through story and song for almost 30 years, GRAMMY-nominated and Dove Award-winning Christian music trio Point of Grace will release a giftable and uniquely customizable book full of life lessons and wisdom to pass down in "How You Live: Lessons Learned from Point of Grace" (B&H Publishing Group, October 27, 2020). 
Named after the Dove-Award-winning (Country Recorded Song of the Year) single, "How You Live (Turn Up the Music)," this book draws on the combined life experiences of Shelley Breen, Denise Jones and Leigh Cappillino in the areas of work, marriage, parenting, faith and music. The song was the title track of their 12th album, "How You Live," which hit No. 56 on the Billboard 200 and No. 4 on the Billboard Christian & Gospel Album Charts. 
The book explores the universal challenges of weathering the ups and downs of life, featuring 41 essays on the lessons God has taught them in a variety of areas, including: marriage, career, anxiety, graduation, motherhood parenting and much more. The women encourage readers that whatever challenges they face there are lessons to be learned.
"I have learned to look at getting older as a gift, in that God uses the time to teach you things about Him, yourself and the world around you," Breen said. "Writing this book allowed me to be very vulnerable about my own lessons learned, and to document them to pass down to whomever might find them helpful or encouraging, beginning with my own daughter. I'm excited to share the finished product with our faithful listeners, who have been with us every step of the way!" 
Each essay comes with thought provoking questions woven throughout the book's beautiful art. Also, a special section in the back of the book features journaling space, giving the reader the opportunity to respond to the stories and record their own lessons learned, or personalize the book to give to someone else. Beautifully designed, photographically rich, and warmly interactive, "How You Live" makes a meaningful gift or thoughtful addition to any library. 
With faith-filled and passionate lyrics, memorable melodies and soaring harmonies, Breen, Jones and Cappillino have inspired generations to live boldly and keep God's love as the foundation of their lives. Together, they have written several books, including devotionals based on their music, a cookbook and a devotional series for young women, "Girls of Grace," which included an interactive Bible study guide and a tour by the same name.
B&H is supporting "How You Live" with a preorder campaign, national media tour and special retailer incentives. For more information about "How You Live," visit howyoulivebook.com.



###
Point of Grace is Shelley Breen, Denise Jones and Leigh Cappillino. They have provided a soundtrack to our lives for over two decades. With over 8 million recordings sold, 3 GRAMMY® nominations, multiple Dove awards, and countless accolades, the story of a few gifted college girls with a simple passion to unite and share their musical gifts for the glory of God continues to evolve and engage thousands of fans, both old and new. Their unique ability to affect audiences with heartfelt song and story is stronger than ever. Each new season of life seems to challenge the trio to reach even higher and dig deeper into their craft, as seen in the musical and lyrical depth of their more recent projects.