Press Release
Bestselling author, podcaster and speaker Jackie Hill Perry's much-anticipated second book 'Holier Than Thou' set to release in August
May 5th
B&H Publishing is proud to announce the forthcoming release of "Holier Than Thou: How God's Holiness Helps Us Trust Him" (August 2021, B&H), the much-anticipated second trade book from bestselling author, Bible teacher and speaker Jackie Hill Perry.
In the book, Perry aims to help readers discover the reason many Christians don't trust God: they misunderstand his holiness. Perry walks readers through various Scripture passages, attempting to "shake the dust off of holy" as many Christians have come to know it and reveal holy for what it really is. With a foreword penned by popular pastor and author Charlie Dates, Perry's goal is to show readers that God's being "holier than thou" is actually the best news in the world, and it's the key to trusting him. 
"As common as the term 'holy' is for most Christians, there is still a need for more contemporary resources around the topic," Perry said. "I'm grateful that B&H has given me the time and opportunity to dig deep into God's nature as clearly envisioned in his Word so that I can transfer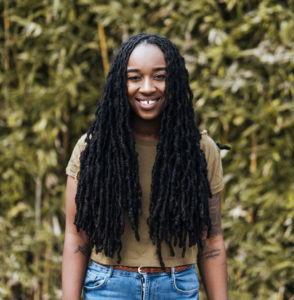 what I've seen to other Christians like me, Christians that want to love the holy, holy, holy God and become more like him too."
Perry's first book, "Gay Girl, Good God" was No. 98 on the Evangelical Christian Publishers' Association (ECPA)'s Top Selling Books of 2018 list, received the First-Time Author award from The Gospel Coalition's Book Awards for 2018 and was featured in international media outlets such as "The 700 Club," Refinery29, "Christianity Today," FamilyLife Radio, "RELEVANT Magazine" and many others. 
Perry and her husband Preston co-host the top-charting podcast "Thirty Minutes with the Perrys" and have their own YouTube show "With the Perrys," with over 85K subscribers after the first season. 
Perry also is an internationally-sought after speaker, headlining top conferences and gatherings such as The Gospel Coalition's National Conference, Lifeway Women Live, IF: Gathering, Propel Women's Activate and at Harvard University and other universities. Her work has been featured in "The Washington Times," "The 700 Club," Desiring God and The Gospel Coalition, and her poems and teachings have reached nearly 2.5 million hits on YouTube. She is signed to Humble Beast Records and her most recent album, "Crescendo," released in May 2018. 
"B&H could not be more excited to steward this book alongside Jackie Hill Perry," said Mary Wiley, vice president of marketing at B&H. "Jackie's writing is unmatched in its artistry, putting the character of God on display in every sentence. We look forward to hearing how engaging this conversation about God's holiness moves readers to deeper commitment to him." 
"Holier Than Thou" is now available for pre-order anywhere books are sold. For more information, visit holierthanthoubook.net.
###
Jackie Hill Perry is an author, poet, Bible teacher and artist. Since becoming a Christian, she has been compelled to use her speaking and teaching gifts to share the light of the gospel of God as authentically as she can. At home she is a wife to Preston and mommy to Eden, Autumn and Sage.