Press Release
B&H launches new website with improved features for retailers, updated logo
Feb 11th
B&H launches new website with improved features for retailers, updated logo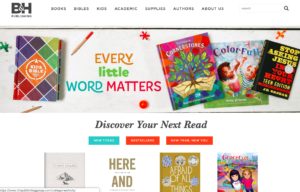 [NASHVILLE, TENN., February 11, 2019—] B&H Publishing is excited to unveil a new and improved website and brand update to better serve both customers and retailers.
Launched in late 2018, the new website features clean, effective imagery and copy that provide a more streamlined and easy-to-use experience for retailers, customers and visitors. The new website also allows the B&H team to effectively promote bestsellers, new releases and familiar backlist titles that support each B&H imprint.
Features that will be particularly useful to retailers include:
Homepage features B&H bestsellers, new titles and seasonal titles
Search products by category
Search products by ISBN number
View B&H bestsellers by category
Choose your own Bible option (coming soon)
The website re-launch also provided a chance for B&H to refresh its brand logos, following the successful launch of the Christian Standard Bible (CSB) and the rebrand of the Holman Bibles line.
"We're extremely proud of this new site and the way it improves our online experience; we want any visitor to the site to see what B&H is known for and what our priorities are," said Dave Schroeder, VP of Marketing. "As we continue to strive for improvement on the website, we also anticipate adding more resources to equip our retail partners for success."
Visit www.bhpublishing.com to learn more.